Where the jungle meets the sea!!! A dream surf destination with 2005 Women's World Champ Kristy Murphy and Coach Cat. Costa Rica, was Cat's first real surf trip abroad for a professional surfing competition. In 1999, she attended the Women's World Longboard Competition held at Boca Barranca, and afterwards was coaxed by friends to travel south in search of a perfectly long point break wave that was still kept relatively secret at that time. After hours upon hours of driving through the jungle on the famous dusty, pot-holed roads and rivers, and with sheer determination and no map as a guide, Cat found her dream wave.
The experience was so amazing that she has returned each year and spent enough time making heaps of friends while at the same time catching an incredible amount of surf at the premier wave in all of Central America. In 2003, she brought a group of pros with her. Kristy Murphy was one of the ladies invited on that photo shoot, and it was on that trip that Kristy discovered the "real" Costa Rica and the surf adventures it had to offer.
Trip insurance: We require that you purchase trip insurance to cover the cost of your adventure and travel, and provide proof at the time of booking.
2023 Dates:
June 11-18
June 25-July 2
July 23-30
Aug. 6-13
2024 Dates:
April 21-28
May 5-12
May 19-26
June 2-9
June 23-30
July 21-28
Aug. 4-11
More Surf, More Adventure
What's Included and What to Expect on Your Pavones Surf Adventure
Your 7-night stay with us in Pavones will include a daily, freshly made, organic breakfast. Then, depending on the tide, we surf our brains out! Six full days of surf coaching with Coach Cat and Kristy Murphy are included with video analysis.
Our wonderful quiver of surf sliding and yoga equipment is also at your disposal for you to enjoy the entire week. Here's a fun fact: Kristy Murphy is not only a former World Champion longboarder and an East Coast Hall of Famer, but she is also a World Champion Cocktail Maker who belongs in the Cocktail Hall of Fame. She will be making you a nightly cocktail or mock-tail for the non-drinkers, to enjoy after surfing and before you eat another organic dinner.
All transportation to and from the Golfito airport upon official arrival and departure dates is provided, as is to and from surf sessions during coaching hours. Our accommodations are top-notch and safe and include daily cleaning services. Massage can be provided upon request, but is not included. Our surf sessions have become the main focus of our surf adventures. We surf all day!!! Mid-day can be hot, especially after a long surf, so we like to focus on rest, which helps the body to recover. For those nappers out there, we like to give everyone a chance to rest in the air-conditioned rooms if desired. For the non-nappers, like Kristy, she will take you on a guided jungle "Sloth Watch" hike where you can see all the animals and birds that Costa Rica has to offer!
Important note: Siren Surf Adventures requires traveler's insurance to guarantee that you have a safe, carefree, and unique vacation. Costa Rica requires traveler's insurance that includes Covid coverage if you are not vaccinated. The Entry Requirements can be found at visitcostarica.com. There are 3 pre-approved policies listed there. 
Please read our booking policies (below), as well as Costa's entry requirements carefully!
The nitty gritty
You do not need to have any previous surf experience to surf with us. Our surf camps for women are geared to all abilities, from the total beginner to advanced and for any age.
You must have basic swimming skills.
To get the most of your surf safari it is best to be in good physical health and injury free.
Guests 17 years old or younger must be accompanied by an adult and minimum age is 10.
It is fine to be a solo traveler. Kristy Murphy's Siren Surf Adventures are a great place to meet new surf buddies! You can also bring a friend, a bunch of friends or maybe your mom, sister and daughter, too.
For travel to Costa Rica, you will need a valid passport with 6 months remaining before expiration.
You Need to book your flight into San Jose Airport (airport code SJO). Then you will need to book a coordinating flight out of SJO to Golfito Airport via Regional Carriers Sansa Air (www.flysansa.com) or Nature Air (www.natureair.com)
If you would like to extend your trip and arrive early or depart later than the camp dates just let us know. We can help coordinate all your travel logistics and help to ensure your vacation is just what you imagined.
Our maximum guest count is 4 people per retreat. This allows us to give ultra personal attention for a superior learning environment. As a result of our small numbers we get to surf the best waves AND Kristy and Cat are always your instructors. This guarantees an authentic surf experience in which you receive the best coaching that money can buy.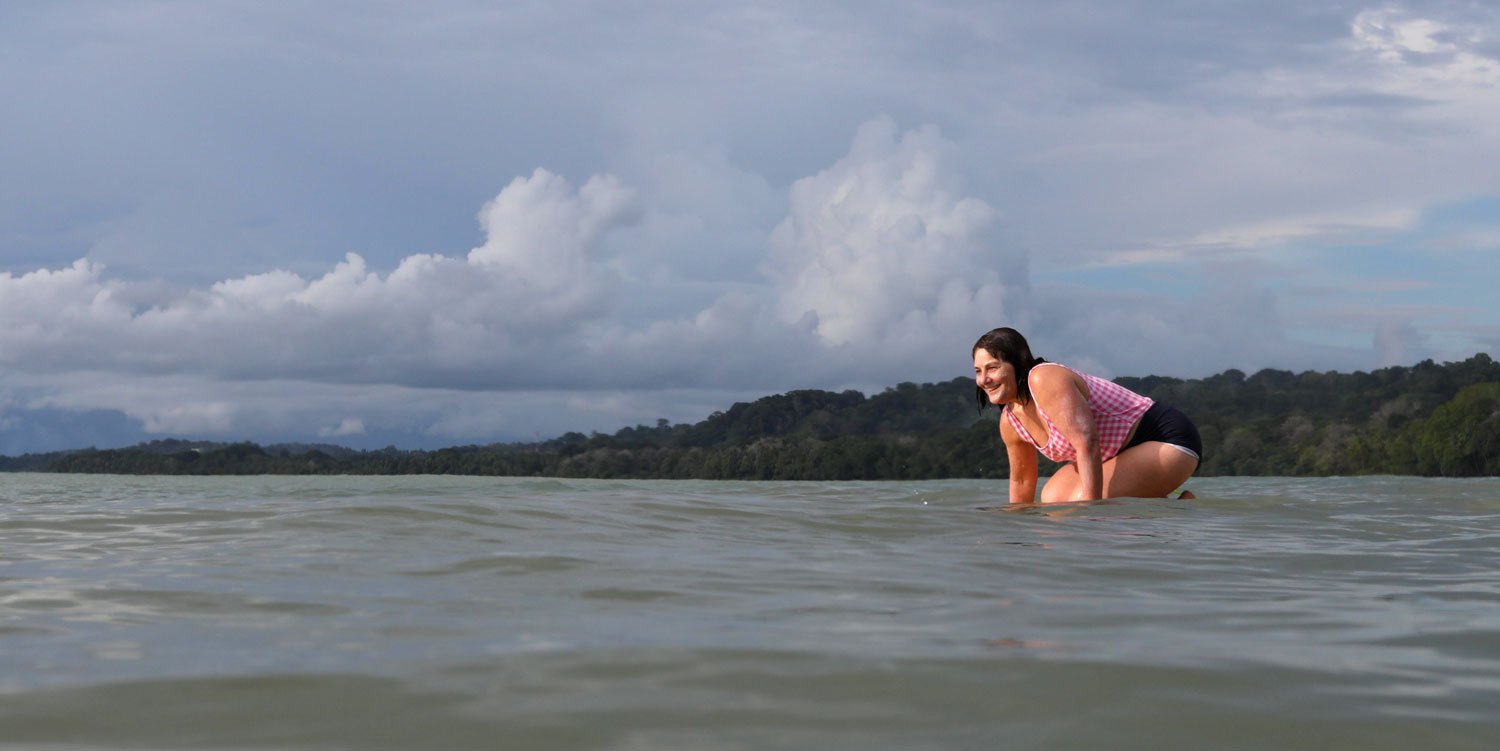 "Do you want to go on a surf trip where your friend picks you up from the airport, let's you use their favorite board, takes you to all the local spots to eat and coaches you into the best surfer you can be? Then Siren Surf Adventures is exactly what you are looking for… but don't tell anyone because this is the best kept secret I know!"
We offer 3 levels of accommodations:
First Notch Private Room Package (only one room type like this available!)
This ocean view cabina is our most spacious room option. If you're looking for an accommodation where you can really spread out and chill-ax then this is the room option for you! 530 square feet with a large screened balcony to watch the sunset or sit for an afternoon read. It has hardwood floors throughout, en suite bathroom, a roomy sitting area with flat screen TV and DVD player to pop in your favorite surf movie, top quality mattresses, pillows and sheets with a king size bed. This is our most perfect, top notch post surf session retreat room!
Private: $3800.00 pp
Shared: $2900.00 pp (king bed good for couples, close friends)
Second Notch Private Room Package
These cabina options range slightly in size and design but are all furnished with the comforts for a great night sleep or afternoon nap. They all have flat screen TV, A/C, top quality mattresses, pillows, and sheets, mini fridge, ensuite bathroom and a patio or balcony. Some have an ocean view others have a garden setting. Surf, eat, and come back to relax under the fan or in the A/C of your Costa Rican home away from home.
Private: $3450.00 pp
Shared: $3150.00 pp
Third Notch Private Room Package (only one room type like this available!)
This room is our best value option. It has all the amenities of the other cabinas but only not quite as spacious. It is a smaller room at 210 square feet, with a full size bed, top quality mattresses, pillows, and sheets with an ensuite bathroom. It's a cozy little spot for a good night sleep!
Private: $3200.00 pp
Shared: $3000.00 pp
How to book your surf adventure
Check surf camp availability. Since we keep our camps small, the first step is to fill out our initial contact form and verify that your desired dates are available. Once we have confirmed your retreat dates we'll send you a confirmation email and invoice to make a deposit.
Pay your deposit securely via PayPal and purchase trip insurance. Your invoice will include a link to make your payment on Paypal. Deposits need to be paid within 24 hours after the invoice is received or space could be potentially resold. This deposit secures your spot in the camp and requested accommodations. The deposit is non-refundable and non-transferable. Please make sure to read our terms and conditions carefully.
Book your flight. Once you receive a confirmation email and have made your deposit, it's time to book your flight. Flight cost is not included in the retreat price and booking travel is your responsibility. Arrival day is first day of retreat and departure is the last day of the retreat*.
Make final payment. Approximately 8 weeks prior to your arrival you'll receive an invoice for the balance of your adventure and it's time to start getting ready! Send us your flight information and download our handy packing checklist with all your surf adventure essentials.
Trip Insurance is Required
Siren Surf Adventures requires that you have travel insurance to cover your costs in the event that you have to miss some, or all of your trip, and are not eligible for a refund from us under our cancellation policy.
It is important that you have adequate travel insurance to cover any amounts that you have paid to us or to airlines or other travel costs.
The most common reason for last minute cancellation's are Covid-related, personal injury, a death in the family, or airline cancellations so we advise that you check your insurer will cover you in these instances.
If your stay at Siren Surf Adventures has to be cancelled by us due to reasons beyond our control (like a pandemic, airline cancellations, natural disaster for example), Siren Surf Adventures is not liable for any refunds or travel costs so it's also important that your travel insurance should cover "operator cancellations", which most standard policies do. Please send proof of this insurance when you send your release form to us or send to us in an email.
If you decide not to purchase this insurance and do not send proof yet still attend retreat please understand that this was your own decision made at your own risk!
 *If you plan on arriving before the first day of the retreat or plan on departing after the last scheduled day of the retreat, you are responsible for arranging your own ground transportation to and from the airport. We can help you arrange this transportation. Once you book your flight, we ask that you forward or fax a copy of your itinerary to us as soon as possible. Please have it to us at least 1 week before your scheduled arrival.
What an awesome, fun, adventure I had surfing Pavones with a great group of women, including my best friend who decided to fly in at the last minute & who had the time of her life learning to surf! Kristy & Cat were the best guides & surf coaches you could find anywhere. I have been surfing for 30 years & grew up surfing an area of Malibu, CA which is dominated by right breaking waves so figured it was time to go left! Every paddle out was under the watchful eye of these super experienced & celebrated women surfers who really care about making you a better surfer so that you can have the most fun possible. From the hands on coaching on the water, to dry land drills to analyzing video footage no matter what level you are Siren Surf Adventures is the absolutely best experience. I plan on surfing with them in Hawaii & Mexico as well & plan to continue these surf adventures with them every year. Don't put it off! Sign up for your adventure! ~ Claire, 2014
Another amazing trip with Kristy and Cat!! I had always wanted to go to Pavones as I'd heard so much about the waves, birds and jungle. All exceed my expectations, especially my surfing. With no one in the surf area where we were, we had a great opportunity to learn and improve. I'm turning and moving on the board. This team is the best for teaching you to surf and if you're already surfing taking you to the next level. The personal instruction can't be beat. They also know the best places to eat and drink so you'll be sure to have a fabulous time all the way around. I'm looking forward to August where I"m going back to Hawaii with them. ~ Anita, 2013
Wow! Cat and Kristy are phenomenal instructors. They're incredibly patient with beginners…and the progress I made in even just a few days was amazing. I've experienced three other surf camps, so I'm getting good at figuring out if the instructors are interested to make a meaningful difference in the skill level of their students: Kristy and Cat are the best in class. Also notable: even beyond the surf experience, the thoughtfulness that Cat & Kristy put into every day of the surf retreat was clear from day 1. They invest time and great listening skills…and tons of fun into creating unique experiences for the women signed up for this adventure. Kristy Murphy's Surf Siren Adventures made my surfing better, made my vacation a blast… and made other camps look like amateur hour. Paddle past the rest…Kristy & Cat are the best!!!! ~ Carolyn, 2012
Thanks for another fantastic adventure, Kristy and Cat! The waves were amazing- perfect for a beginner to learn on without feeling intimidated, but challenging enough for better surfers to practice their cutbacks and nose-riding. Cat and Kristy are fantastic instructors- great at explaining things, very patient, and always encouraging. They gave me the full VIP treatment, and my magical aloha sunset session at the end of the week was proof of how much improvement I'd made with their help. I loved being part of the Pavones surf scene, meeting the locals (in the water AND on the dance floor!) as well as the fellow traveling surfers who, like me, are willing to go great distances for a good ride. The accommodations were very comfortable and clean. Angela and Marshall, the owners, are so down to earth and welcoming. Now that I've tried both Costa Rica and Saladita, it's hard to say which I like better bc the trips are so uniquely different. Where next? Hopefully to the Bahamas for SUP! ~ Becki Lee, 2012
I had the opportunity to meet and watch Kristy and her friends surf in Pavones Costa Rica this month and she is amazing. She has so much energy and is a joy to be around. Her surfing is breathtaking, graceful and such a treat to watch. I look forward to meeting her again next year in Pavones. ~ Shawn, 2014

Check out all our reviews on TripAdvisor